Radiance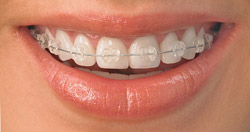 Introducing Radiance, the fast and reliable way to invisibly straighten your teeth. Radiance has changed the face of braces forever. Now you can live your life while getting the smile you have always wanted. Gone are the days of traditional metal braces as your only option for orthodontic care. Today, only clear ceramics balance your doctor's need for tooth control and your need for a professional appearance.
Early ceramics were clouded and failed to deliver on the promise of a clear smile. Radiance is different. Every Radiance bracket is a polished jewel, made from pure grown sapphire, second only to diamond as the toughest mineral known to exist. Each crystal is honed and then heat polished into a superbly smooth, incredibly clear, and astoundingly strong bracket.
Invisibly straighten your teeth with the confidence that can only come from Radiance pure sapphire brackets. Ask your doctor to show you the amazing Radiance brackets and make an investment in yourself today!