The Harmony System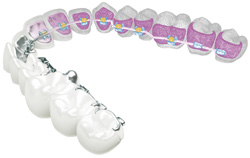 The Invisible Solution for a Perfect Smile.
HARMONY is an advanced digitally customized, invisible solution for straightening teeth. The Harmony braces are attached to the inside, or lingual side of your teeth, so no one will know you are wearing braces but you.
HARMONY combines the latest CAD/CAM processes and manufacturing techniques to produce a customized system that adapts seamlessly to the shape and contour of your teeth. The Harmony system benefits from digital self-ligating technology, the latest advancement in orthodontics, to get you in and out of treatment quickly and comfortably with efficient precision.
HARMONY is designed to work with your orthodontist to achieve the highest level of patient treatment, as efficiently as possible. Your smile deserves the best. Make your smile the best it can be, with this innovative, invisible orthodontic solution.